Yea, a new sport to scrap! After years of football and soccer it was fun to scrap about a new sport :) This was Mimi's 1st experience with volleyball. She learned a bunch of new skills and had a lot of fun. I had to relearn all the rules because they have changed since I was in school (hold the old jokes) and don't make a lot of sense in my mind. Being placed on the "B" team was a little blow to her ego but was boosted later by being chosen to go with the "A" team to the a big tournament.
Cardstock: Bazzill, W R Memory Keepers; patterned paper; Crate Paper, My Minds Eye, Imaginisce, Reminisce; journaling spot: My Minds Eye; dimensional stickers: Recollections; gems: Martha Stewart, Making Memories; die cutting machine: Cricut, Provo Craft (Sports Mania cartridge); ink: Stampin' Up; pen: American Crafts, Sakura; adhesive: Recollections, Tombow; misc: Modge Podge, netting (tomato packaging); sketch: Sketch Support.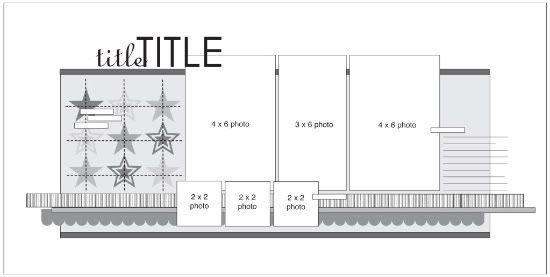 Used this sketch from Sketch Support as my inspiration
Cut the volleyball border and title on the Cricut using the Sports Mania cartridge. The heart behind the net embellishment is cut from the netting that held tomatoes.
Love the picture of Mimi and her Grandpa Roger :) Used a ruler and pen to add the faux stitching.
Time to go watch American Idol with my hubby, it's my one guilty reality show. Love that Phillip Phillips, although I'm not sure what his parents were thinking when they named him! I know he's gotten a lot of flack from the media but I think he's a cutie :} Don't worry...I'm not going to go all J Lo on you and get myself a 24 year old boyfriend :P